An "Absolutely Fabulous" Tribute To BLACK FLAG feat: BLACK FAG!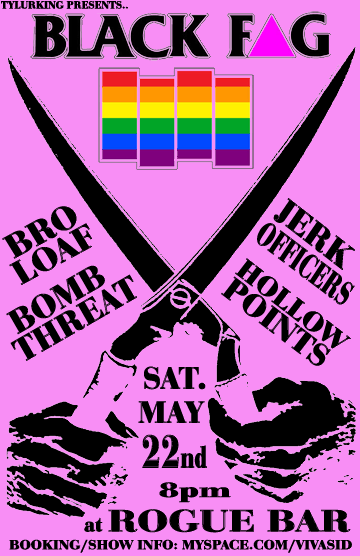 with Black Fag, Bro-loaf, Hollowpoints, Bomb Threat & Jerk Officers
An "intimate" evening with Los Angeles' BLACK FAG the worlds most renown (and ummmm... happiest) BLACK FLAG tribute band. Supporting them on their whirl wind stop in lovely Scottsdale, AZ will be our very own "Jocks Of The Block" Arizona Hard Cores very own boy band BRO-LOAF. Seattles HOLLOWPOINTS, the West Sides BOMB THREAT (no they dont just listen to Korn out there) & the debut of The JERK OFFICERS will also test out their manhood. Be there or be square...